Description
We have been cleaning your plates and glasses in a sustainable way since 1995, and now we want to get your laundry. We present: The new claro laundry detergent powder called Kunterbunt. A real natural talent, based on renewable raw materials and free of allergens and microplastics.
high cleaning power at low temperatures
based on renewable raw materials
vegan
gentle on the skin
with color protection
phosphate-free
without microplastics
free of dyes
without optical brighteners
Dosage: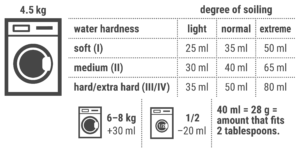 The claro saving tip:
Use our water-softener tabs as well, these enable you to dose detergent for soft water conditions even in hard water. This is how you protect your wallet and the environment.
claro laundry detergent Kunterbunt have been awarded the Austrian Ecolabel and the EU Ecolabel!
CONTENT: 1kg