Origin
Who we are and how our tabs are made.
claro Basics

42 employees

years of experience

clean dishes

1200 tabs/minute
"Some of us are thinkers, others like to tackle things head on. There are inventors, testers, all-rounders and of course those who think differently."
This is how it all began.
claro was founded in 1995 by Josef Dygruber. The goal was to produce best quality detergents and bring development, production design and marketing under one roof. Today, claro stands for perfectly clean dishes and an intact environment.
Our promise to you and the environment:
Made in Austria
Quality since 1995
Internal development
Own production
Not tested on animals
Independent of large multinationals
claro Milestones
1997
claro is the 1st Austrian chemical manufacturer to be awarded the Eco-Audit Certificate by the Minister of Environment.
2001
claro developed the revolutionary water-soluble wrapping.
2008
claro pur, the first phosphate-free tab on the Austrian market.
2009
claro goes completely phosphate-free – change in all products.
2010
claro is awarded the EU-Ecolabel-Award and the Austrian Ecolabel (Umweltzeichen).
2016
claro scores "good" from STIWA for Classic Tabs 40 pack in Germany.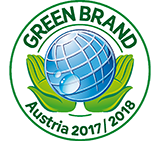 2017
claro is certificated as a Green Brand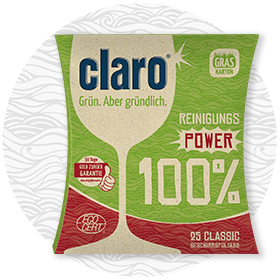 2018
claro developed the claro 100% tabs – fully biodegradable
"For me claro is the company where I want to work until I retire."