Origin
Who we are and how our tabs are made.
Austria.
Home, that is close to heart.
In the HEART of Austria is the company location from claro and it's home to many of its employees. It is a great pleasure to manufacture products at this wonderful location and to do a good job with minimal fanfare. Green. But clean.
claro Basics
40 employees
years of experience
clean dishes
1200 tabs/minute
Servus = Greetings from Austria's cleanest team.
Research and development
Miraculix would personally rub his hands in claro's innovative production site. As the skies above start to rumble and tumble, is when the brainwaves start to bolt through our thinking caps. However, it does not hurt – in fact, every outcome makes us proud.
Mixing plant: Here, everything that belongs together comes together!
Pssst, keep it to yourself, here is the unofficial bakery and big kitchen from claro. At the mixing plant is where individual raw materials, which is used in our tablets and powder, are mixed together. The basis is usually the same – critical are the "condiments" for the individual phases. Each phase comes into a funnel and a tablet is formed. At the end, the tablet is pressed and so are the claro tablets ready.
Production: Here is diligence and enthusiasm hard at work!
What we have: Enthusiastic, swift and diligent hands, people, who keep an overview of many processes – and who always know where it's at. Not to forget, that many machines such as the tablet press and assembly lines come into play. Thus, you find yourself in the middle of the modern production department at claro.
Office: Welcome in claro's control center!
What would the big picture be without the lowest common denominator? Correct, pure chaos. Therefore, it's the right people sitting at the right places who make things happen. Whether it is our sales talents at the front, or our purchasers, our creative marketing team or those jumbling digits in bookkeeping, everyone does what they can to the best of their ability.
claro Milestones
1997
claro is the 1st Austrian chemical manufacturer to be awarded the Eco-Audit Certificate by the Minister of Environment.
2001
claro developed the revolutionary water-soluble wrapping.
2008
claro pur, the first phosphate-free tab on the Austrian market.
2009
claro goes completely phosphate-free – change in all products.
2010
claro is awarded the EU-Ecolabel-Award and the Austrian Ecolabel (Umweltzeichen).
2016
claro scores "good" from STIWA for Classic Tabs 40 pack in Germany.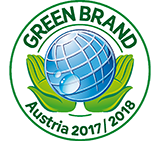 2017
claro is certificated as a Green Brand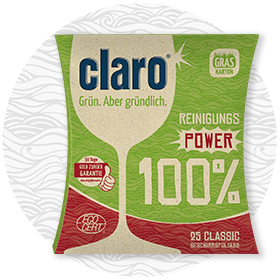 2018
claro developed the claro 100% tabs – fully biodegradable